Being a recruiter / hiring manager is one of the hardest jobs out there. And these days, searching for a job isn't a piece of cake either.
Why does recruitment have to be so painful?
Today, GrabJobs is excited to introduce a new Free Plan to make recruitment even easier for HR teams of all sizes. Anyone who wants to automate their hiring process is invited to try GrabJobs recruitment platform free of charge.
Start Hiring Better, Faster
Stop spending long hours on recruitment, let GrabJobs automation work for you!
The Free Plan is a no-cost option enabling you to post jobs and benefit from the automation functionalities of GrabJobs without worrying about your budget. We believe that digital hiring solutions are the way forward and we want to empower teams from day one.
Employers on the Free Plan get unlimited access to core functions of GrabJobs including job posting, candidate screening with Interview Chatbots and recruitment automation features. The Growth and Business Plans are still available for teams with larger hiring needs or teams that require recruitment analytics to make data-driven decisions.
To learn more about GrabJobs, visit our features page.
Excited about the free plan? Please help spread the word (and get rewarded 🙌!)
GrabJobs is now available in over 20 countries and we're constantly adding new features to streamline interaction between employers & jobseekers.
Making the Hiring Process smooth, fast and painless
GrabJobs acts as a facilitator for both employers and jobseekers to be able to connect over an efficient tech platform. Combining a job search portal + an Applicant Tracking System (to manage applications) + Automation = what you get is an all-in-one Software-as-a-Service platform to manage and automate your recruitment end-to-end.
Employers have access to a full suite of smart features (multichannel job posting to 20+ job sites, user-friendly ATS, Interview Chatbot Technology).
Jobseekers can enjoy a free job search portal accessible both on Mobile App and Web, with a built-in Live Chat and Interview Scheduler.
While digital technology is now omnipresent in our daily life, we feel traditional talent acquisition best practices can easily be upgraded with smart technology: walk-in vs online applications, piles of paper based resumes vs cloud-based Applicant Tracking Systems, face-to-face interviews vs Zoom video calls.
1/ Interview Chatbots streamline interactions between candidates and employers, making the application experience easier for both sides. At the same time, Interview Chatbots are an opportunity for companies to improve their applicant engagement process and hiring efficiency by reducing cost and time-to-hire. Job Seekers are looking for a quick and easy process – if a company takes too long to respond or makes it difficult to apply, there's a good chance they'll be losing potential talent.
Interview Chatbots Competitive Advantages:
Never gets tired – asks all your repetitive questions to all applicants simultaneously.
Never takes breaks – you may work 6–8 hours a day, while chatbots are available 24/7 and never gets sick or ask for day off.
Performs unbiased screening – never judges anyone on ethnicity, gender, appearance, etc.
Speeds up the initial interview process – instantly informs candidates about the next steps of your recruitment process and assists in scheduling upcoming round of interviews with top applicants.
Provides a familiar interface – available from everywhere, making the candidate feel at home while taking interviews.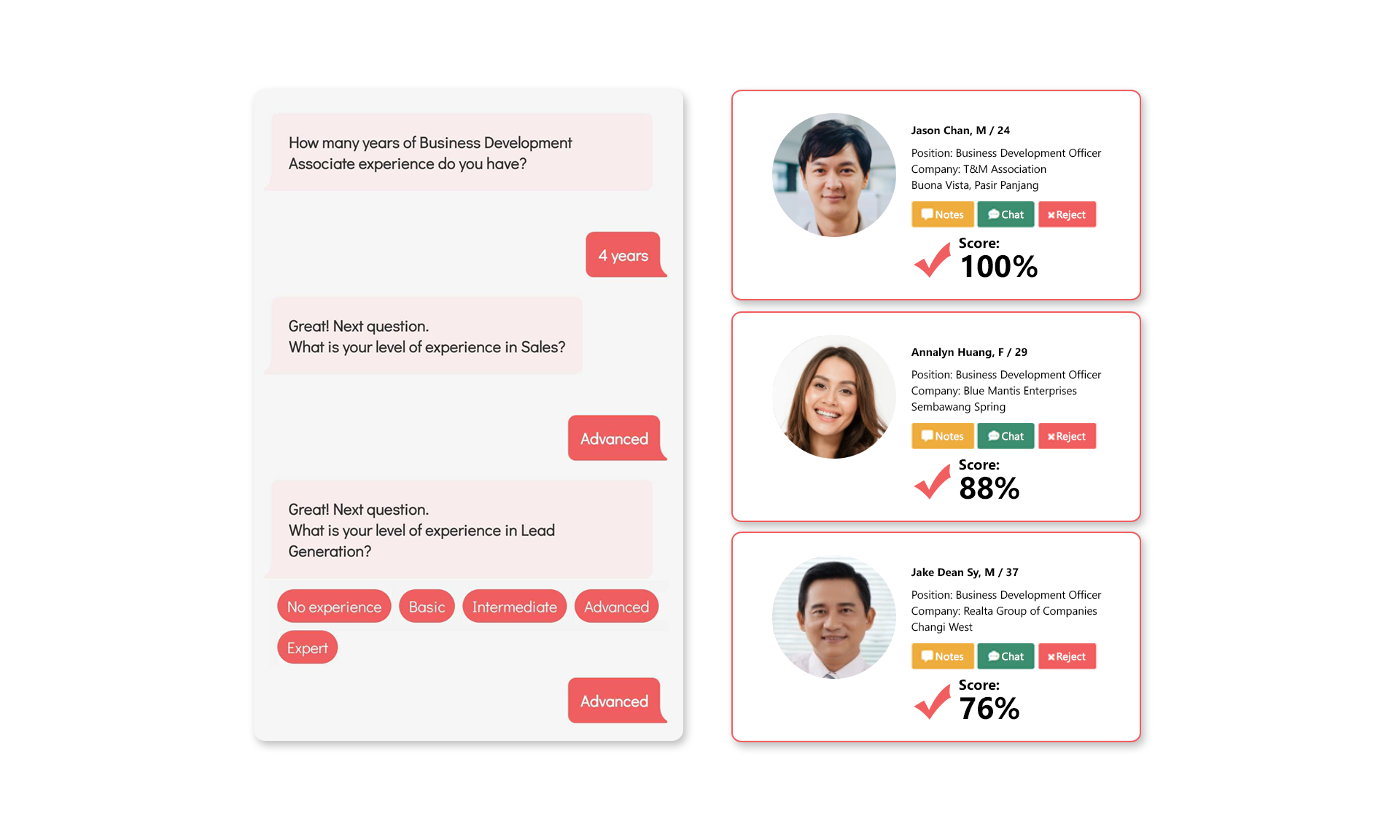 2/ Built-in Interview Scheduler removes the scheduling back-and-forth and helps you arrange video interviews via Zoom. Working from home? Interview applicants remotely on video. Turn the scheduling automation "On" to send auto-invitations to your top applicants and let them choose from your available timeslots.
GrabJobs Interview Scheduler helps you to:
Arrange Interviews with selected candidates straight to your calendar
Send reminders to your applicants 24h and 3h before the interview
Receive live notifications when applicants confirm their attendance
Avoid no-show situation by offering applicants to reschedule or cancel in advance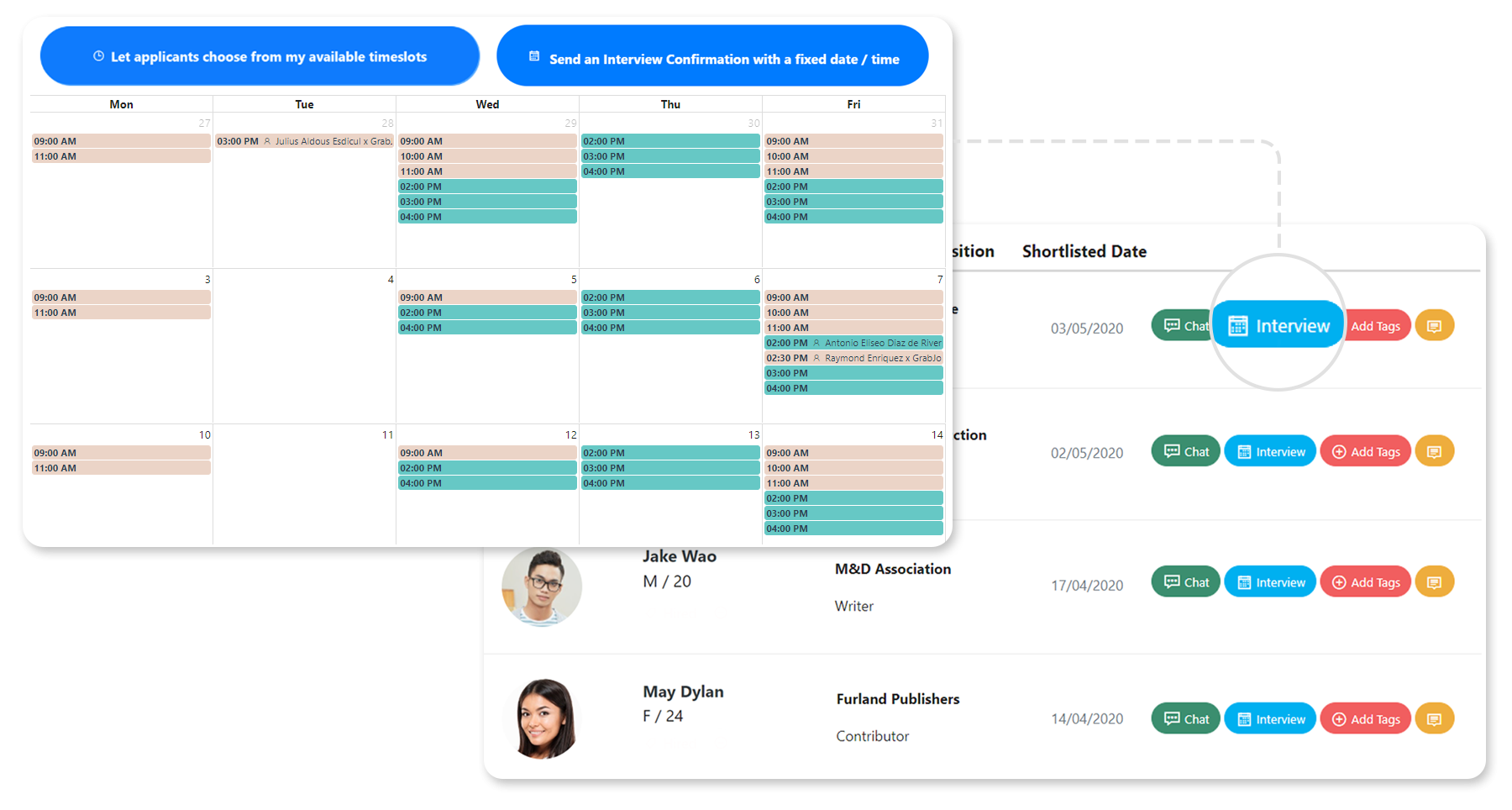 Looking at job sites today, you find mostly information about jobs and companies and that's pretty much it.
While searching for jobs, we feel jobseekers should be able to find information that answers your questions:
>> Are there affordable lunch restaurants/cafes near the office?
>> Are their nurseries nearby to drop off kids?
>> What's the price of apartments in the area if I had to move closer to work?
To improve the applicant experience, we just introduced an ecosystem of value-add services: Jobs, Career Resources, Financial Resources, Learning Hub, Lifestyle Promotions:
Find complete advice on every step of the hiring process
Browse financial offers to make and save money on the side
Learn new skills in different disciplines
Mobile first and driven by innovation, GrabJobs is the most efficient job search portal, connecting millions of job seekers and employers.
Employers enjoy an efficient all-in-one recruitment automation platform that helps them get rid of repetitive and time-consuming hiring tasks.
Start Hiring Better, Faster
Stop spending long hours on recruitment, let GrabJobs automation work for you!