Challenges
Uniqlo operates 28 stores in Singapore and employs over 5,000 employees. With the opening of new stores and a retail staff turnover rate of 30%, Uniqlo Singapore has constant need to hire full-time and part-time staff.
Faced with large volume of hires to make, the lean 3-member recruitment team at Uniqlo was faced with the following challenges:
Time consuming and repetitive recruitment process with over 40 hours spent each week sourcing and screening applicants
High interview no-show rate of 50%
Results with GrabJobs
After having implemented GrabJobs Recruitment Automation Platform, Uniqlo was able to achieve the following:
Over 1,000 staff hired in just over 4 months
239 man days saved over a year, corresponding to $39,000 saved
Interview show-up rate increased from 50% to 83%

Uniqlo is the world's third-largest manufacturer and retailer of private-label apparel. The company generates USD$22 billion in annual sales from approximately 2,200 stores in 22 countries, with 50,000 employees.
Before GrabJobs, the HR team at Uniqlo: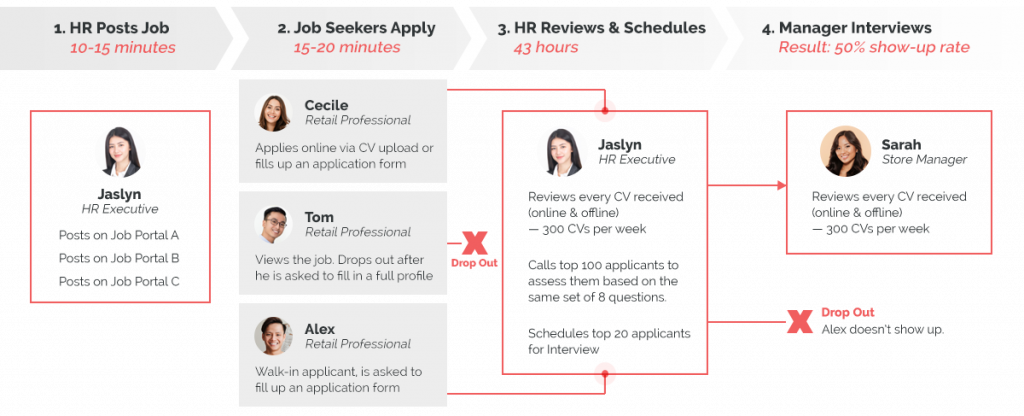 GrabJobs Hiring Solution implemented for Uniqlo Singapore
With our multichannel job posting function, Uniqlo's jobs are reposted automatically on over 20 other job sites.
With our Career Page widget, the jobs are also automatically posted on Uniqlo's official Career Website
Posters and flyers with GrabJobs QR code are available in every Uniqlo store for walk-in applicants to apply
Social Media campaigns are run to attract candidates for Recruitment Days Applicants coming from sources above are all centralized on GrabJobs dashboard and must answer an Interview Chatbot to complete their application.
Our Interview Chatbot was customized to automatically screen applicants over chat according to Uniqlo requirements. As part of the screening, applicants are asked which preferred store they want to work in.
The bot scores all applicants and automatically shortlists those that match requirements, and rejects those that don't.
Interview Scheduling & Reminders
Shortlisted applicants are automatically sent Interview Invitations to meet the Store Manager at their indicated preferred store. Candidates receive automated reminders 24H and 3H before the interview to reconfirm their attendance or reschedule/cancel.
GrabJobs helps Uniqlo HR team increase efficiency 100x with Recruitment Automation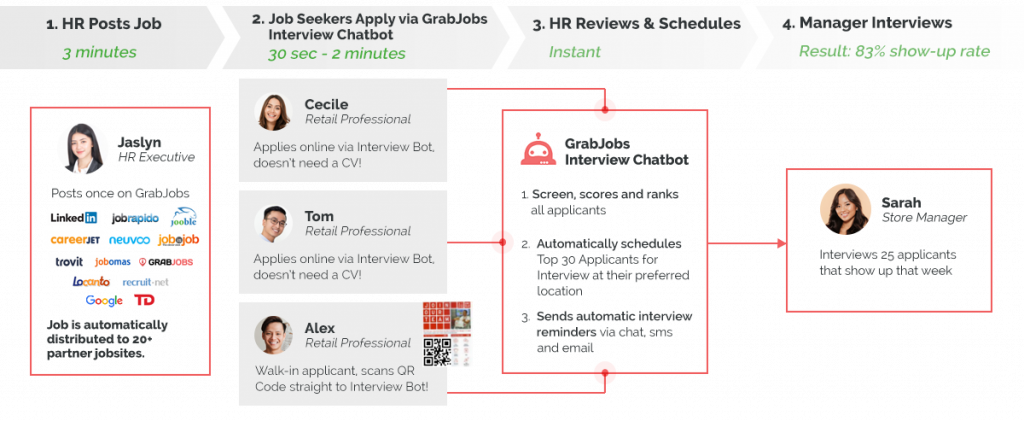 Results over 12 Months Period
1st March 2019 – 29th Feb 2020

"I can personally vouch for the effectiveness of GrabJobs. The platform has enabled my store recruitment team to track numbers, filter candidates and improve hiring efficiency at the store level."
James Lee
Regional Manager - Talent Acquisition