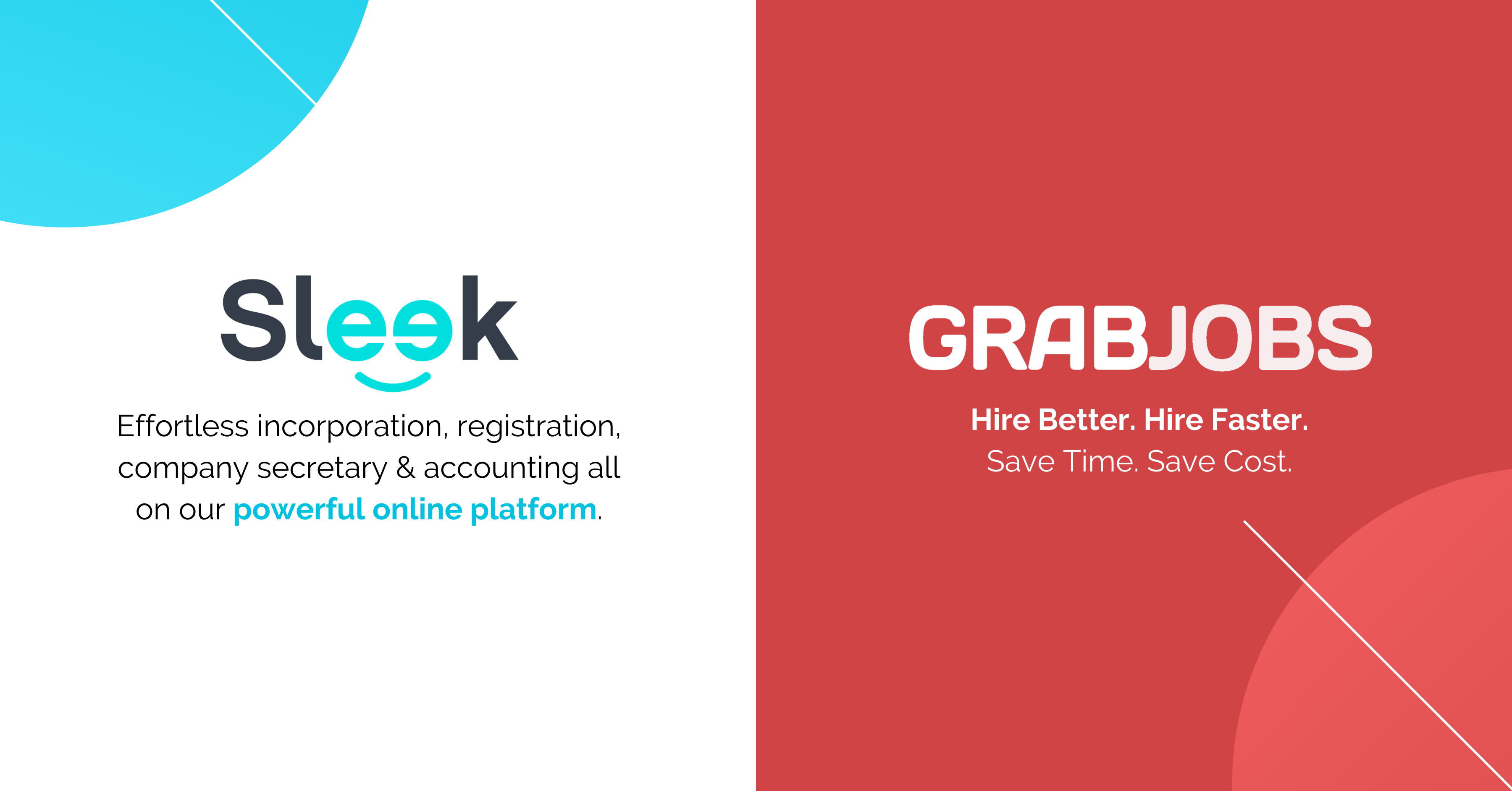 Starting a business is no walk in the park and comes with major headaches. It's a journey full of obstacles and roadblocks. In order to help entrepreneurs and SMEs navigate this difficult path, GrabJobs and Sleek have teamed up to alleviate some of the major time consuming and administrative pain points faced along the way: company registration, accounting and recruitment.

GrabJobs and Sleek have partnered to offer a full suite of Business Services that automate and digitize these processes. (Sign up for both a get 30% off GrabJobs and $200 off Sleek services, scroll below to find out how).
GrabJobs – Automating Recruitment
Recruitment is one of the most important functions of an SME. In order for a business to scale, you need to hire fast. However recruitment done traditionally is a very slow and time consuming process. GrabJobs removes that hassle completely. It is the only platform that automates your recruitment process from applicant sourcing to screening and interview scheduling.
4 Key Features of GrabJobs:
Multi-Channel Job Posting: post on over 20 job sites in 1-click and reach millions of candidates
Interview Chat Bot: screen your applicants automatically 24/7 over chat and save hundreds of hours
Live Chat: engage with candidates directly over chat for faster responses
Automated Interview Scheduler: schedule interviews automatically with automated reminders being sent to candidates to avoid no-shows
Sleek – Cloud Corporate Secretary
As a Startup or SME, you need to focus on growing your business while spending as little time as possible on administrative tasks. Incorporation, accounting, payroll and tax filing are admin heavy tasks that can take a large part of your week. Sleek makes the lives of entrepreneurs, investors and SMEs easier by providing a one-stop powerful online platform to manage all these services.

With Sleek you can incorporate a company 100% remotely without leaving your desk, file requests to your company secretary 24/7 and get hassle-free accounting and tax services. If you already have an existing corpsec, you can transfer over to enjoy a fully digital platform to handle your compliance and accounting.

3 Key Benefits:
Transparent
Accessible
Paperless
Interested in working with GrabJobs and Sleek? Sign up for both and get 30% off GrabJobs and $200 off Sleek services, contact Fiona here to find out the details.