Because it's such a great place to live and work, Singapore's job market is highly competitive for locals and foreigners alike. Sizeable retrenchments have made it increasingly difficult to find a job in Singapore. And on top of everything else, the Coronavirus pandemic has fundamentally reshaped many Singaporean businesses and posts.
Regardless of recent events, there are still plenty of jobs for foreigners in Singapore thanks to the country's diverse and resilient economy. Most of these positions will require a specific skillset, though. You'll usually need a technical background in high demand or sought-after experience.
Singaporean locals are already well-educated and highly skilled, so the job market is quite competitive. You've got to stand out from the local talent for a Singaporean company to hire you and jump through the hoops to obtain a work visa for you.
This year, the Ministry of Manpower (MOM) imposed new regulations on visa requirements and quotas for foreign employees. The new regulations give citizens even more preference to make sure they get the first crack at jobs in a sputtering economy.
It's not all gloom and doom, though. If you know the right people and use the right approach, it's possible for foreigners to land jobs in Singapore. Read on to learn what you need to know about landing a job in Singapore as a foreigner.
Is it Easy to Find Work in Singapore?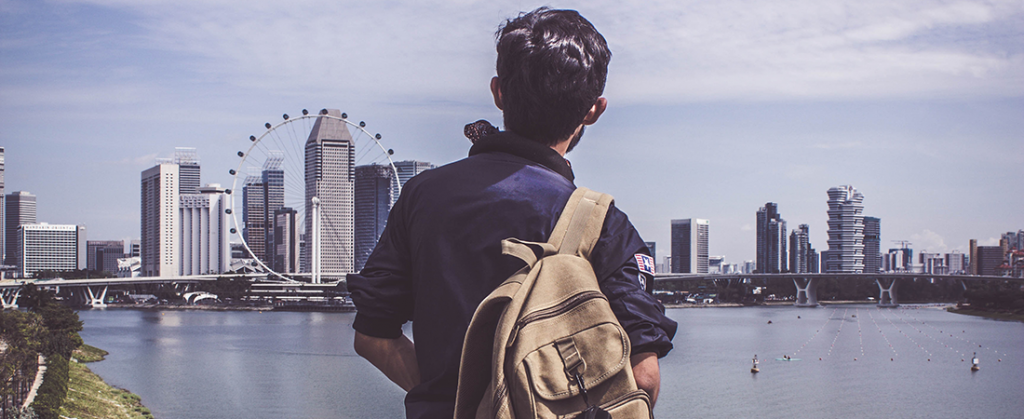 Thanks in large part to its talented, diligent, cutting-edge workfore, Singapore has a robust economy. Before the pandemic, the MOM reported significant job growth as employment rebounded from lower levels in 2014. In 2019, Singapore added more than 63,000 jobs and enjoyed record levels of employment.
Of course, the pandemic slowed things down worldwide, and Singapore was no exception. Most job losses in 2020 occurred in the non-professional, trade-based industries, like wholesaling, manufacturing, and financial services.
Due to Singapore's position as the financial hub of Asia and its importance in international trade, these sectors are likely to rebound quickly. Still, the future for these positions is less certain. Consequently, moving forward, it will be challenging for foreigners to enter those industries.
If you're a foreigner with more in-demand skillsets, though, you have a rosier employment picture. Tech positions, like AI specialists, digital markers, data scientists, data engineers, software engineers, or cybersecurity specialists, are in high demand. As the population of Singapore ages, there will also be a growing need for healthcare professionals.
Moving forward, tech and healthcare positions offer tremendous long-term job security since they'll be critical to Singapore's ability to survive and rebound in the wake of the pandemic. If you're a highly qualified foreigner planning to get a job in one of these sectors, you'll stand the best chance of finding employment in Singapore.
One of the main constraints for hiring foreign workers is a foreign work visa. These permits are issued by the MOM after a job offer is given, and they cost companies lots of time, money, and effort to secure. To legally work in Singapore, you must have either an Employment Pass (EP), EntrePass, or an S Pass. Each pass is initially issued for two years, and renewals are valid for three years.
This year, the MOM made it a bit more challenging for firms to apply for work visas by raising the income requirements. This was done to promote hiring Singaporeans for positions that need to be filled rather than importing new talent as the economy recovers from the pandemic.
Once you're hired for a new position as a foreigner, your employer will sponsor you and apply for a work visa on your behalf before you can come to work in Singapore. During the first half of 2020, the MOM raised the minimum qualifying salary for both the Employment Pass, which applies to eligible foreign professionals, managers, executives, and the S Pass, allowing mid-level skilled foreigner work in Singapore.
New Employment Pass (EP) Requirements
As of 1 September, 2020, the rules for a new Employment Pass got stricter. Young applicants must be offered a monthly salary above $4,500, which is $600 more than you needed to earn before. Older applicants, generally in their 40s and above, will need to earn $9,000 a month, about $1,200 more than before the changes went into effect. Foreigners who currently have an EP will be subject to these new requirements if they're set to renew their permit after 1 May, 2021.
To work in the financial services sector, a young applicant must earn at least $5,000 per month, while experience people must make more than $10,000 every month. Of course, applicants will also need to present qualifications from accredited institutions, and they should stand out as people who will be assets to the country.
Then there's one last stipulation to encourage Singaporean firms to hire Singaporeans. Before employers can apply for an EP on a foreign employee's behalf, they're required to advertise the position on MyCareersFuture for at least 28 days and fairly consider all applicants. The only exceptions to this policy are if the income will be more than $20,000 per month or if publicly listing the job might pose a security threat.
S Pass applicants, who are mid-skilled foreign workers, will also see some changes from the MOM. From 1 January 2021, companies will only be permitted to employ foreigners as 10% of their workforce, down from the current rate of 13%. For the construction, marine shipyard, and process fields, that number of foreigners in a company's workforce must not exceed 18%, down from 20%. At the beginning of 2023, that number drops further, with companies only allowed to hire 15% of their workforce from outside of Singapore.
The S Pass is also subject to new minimum income requirements. Young applicants need to earn $100 more than before, with a minimum of $2,5000. The salary of experienced applicants will also be revised accordingly.
What about EntrePass Visas?
EntrePass visas aren't facilitated by companies who want you as an employee. Rather, they're granted to entrepreneurs for one year, and they can be renewed for two years at a time. To secure your EntrePass, you'll have to start or intend to create a private limited company in Singapore as an entrepreneur, innovator, or investor. EntrePass applicants don't need to be hired or sponsored by a company in Singapore.
What is the best way to get a job in Singapore as a foreigner?
Since the job market is so competitive, it can take a little bit of creativity to distinguish yourself as a foreigner entering the local job market. It isn't enough to just be good enough at what you do. These new regulations that tighten the rules governing foreign workers mean that you have to be better at what you do than qualified Singaporeans. And the MOM has to agree you're exceptional when it reviews your application.
There are a few popular strategies that you can employ to land a job in Singapore as a foreigner. Many try several at the same time to maximize their success and increase their chances of landing a coveted spot with a company in Singapore. These are some of the best ways how to find a job in Singapore as a foreigner.
Networking is key to getting hired for foreigner work in Singapore. It's important who you know and who knows about you. If you're looking for work in Singapore, it's best to spend some time in the country making connections with influential people. To grow your network within Singapore, you can plan shorter stays or attend industry-specific events. During those visits, connect with people, including those native to Singapore and from abroad. LinkedIn can be a great resource to keep in touch with the people you meet and nurture your business relationships.
Tapping into this network becomes very important if you're not specialized or if you're skilled in an industry that's in high demand (and crowded with plenty of other applicants). It can also be helpful if you're looking to secure a specific position.
Reaching out to in-house recruiters of specific companies that you'd like to work for can be effective, too, especially if you use LinkedIn to facilitate the connection. You can also talk to hiring managers themselves.
2. Internal Company Transfers
One of the best ways to get a job in Singapore as an established professional is to consider an internal company transfer. If you get internal approval to work for your company in Singapore, this makes it easier to move forward with the whole process of working in Singapore. Starting out at a company headquartered in Singapore and initially proving your value abroad will make the entire transfer process go smoothly.
Where should I look for open positions in Singapore?
Here are some great online job portals and resources to help you look for a job in Singapore as a foreigner. The list includes Asia and Singapore-specific sites as well as broad recruitment resources.
Premier Singapore-based job portal


Comprehensive Asian job search space
Extensive list of open positions in Singapore
International recruitment site for high-end job seekers
Expansive professional social network to build contacts and reach in-house recruiters
How do you get a Job in Singapore as a Foreigner?
To understand what you'll face as you look for a job in Singapore, take a look at this post. Before you begin looking for jobs in Singapore, check with the MOM to see if you'll be eligible for a work visa. If you pass that initial assessment, then you can begin looking for a job in Singapore. It's best to choose a thriving industry with lots of demand for highly skilled workers, like the tech and finance fields.
Networking can be beneficial as you look for work in Singapore. Otherwise, consider in-house recruitment or employment agencies with connections in Singapore. Once you have a competitive offer from a business in Singapore, you'll need to apply for your work visa. When that is approved, you can begin the relocation process and get to work!
Can I Apply for a Work Visa in Singapore before I Find a Job?
No, you must apply for a work visa after you're offered a job by a company in Singapore, and before you make plans to move to Singapore for your new job. Check the MOM's eligibility criteria to get a good idea of what they're looking for to see if you'll be approved for a work visa before you start job hunting. Ideally, you'll be well qualified by accredited institutions with extensive work experience or with a sorely-needed specialization in a cutting-edge field.
If you're planning to work for a Singapore company, you'll need to apply for either an EP or an S Pass. Once you've been hired by a company, make sure that your income will exceed the recently increased salary minimums and that you bring an impressive CV for the MOM to review.
After you receive your job offer, the company that you'll work for will seek the appropriate work visa on your behalf. When you're approved, you can head to Singapore to start working. Anticipate renewing your visa every few years to stay in compliance with the MOM.
How long does it take to find a Job in Singapore?
That depends on how well suited you are for current job openings in Singapore. If you're entering a field with high demand and a specialized skill set that companies in Singapore are looking for, the hiring process will go quickly. The significant impediments that may take time are work visa approval from the MOM and the time it takes to move to Singapore. Internal company transfers may take less time.
If you lack substantial work experience or a specialized skill set, your job search might take a while, and there's a risk that the MOM might not grant you a work visa. Without these distinctions, it'll be hard to set yourself apart from suitable local hires.
Job portals, like the ones listed above, are repeatedly refreshed with current postings. As HR departments streamline the interview process, you can expect that the hiring process can go quickly if a company cannot find a qualified citizen to do the job that you'll be doing.
Singapore has a competitive job market that entices people from around the world. Citizens are highly-qualified, skilled, and hardworking, so it can be hard to break into this market as a foreigner unless you're in a rapidly developing field like technology. And even if you're better suited for a particular than a Singaporean citizen, there are plenty of reasons why companies would choose a local hire over a foreigner.
The work visa process in Singapore can be complicated, expensive, and time-consuming. Even if you are perfectly suited for a job in Singapore, and the company hires you, the MOM has several hurdles for you to overcome before moving to Singapore and working. New minimum salary requirements implemented by the MOM this year mean that companies can only hire more specialized people who earn higher salaries than before. New quotas and limits on work visas mean that companies can't hire as many foreigners as before.
Together, all of these new rules make it easier for companies to hire citizens and less attractive to hire foreigners. If you're set on becoming a vital part of the Singapore workforce, then you've got your work cut out for you. It may take some creative thinking, like talking with in-house recruiters of companies that you'd like to work for or internally transferring to Singapore from a country with other branches worldwide. If those options aren't available, then visit Singapore during industry-specific trade events and start networking with local entities as you prepare for your job hunt.
Keep an eye on local job portals, especially those focusing on Asia or Singapore, like GrabJobs, to see what's available. Though it may take a lot of time and effort to secure a job offer in Singapore, it'll be worth it in the long-term. Singapore is a great place to live, with a transparent local economy that supports its workforce with fair employment regulations.
Ultimately, your success in securing one of the coveted jobs for foreigners in Singapore depends on your skills, specialization, and credentials. The MOM wants to ensure that Singaporeans capable of filling open positions are given a chance to do so before foreigners. To get a job in Singapore as a foreigner, all of those things factor into how marketable you are as a candidate for a position.
The restrictions that make it difficult to get a job in Singapore as a foreigner are the same ones that support a high quality of life and workplace satisfaction once you've begun working in Singapore. We wish you the best of luck as you begin the challenging task of finding a job in Singapore as a foreigner.