Many of us may be looking for way(s) to earn some extra side income to tide through these difficult and challenging times. While some of us may be hunting for a new part-time or full-time job, others may have some extra time on their hands and could be looking for ways to earn some money on the side. 
No matter your situation, we've got some ideas for everybody that you may want to give a go at – so keep on reading to find out what you can do to reel in some money!
Unfortunately, with the global economy taking a large hit, countless individuals have also been displaced from their employment too. In Singapore specifically, retrenchment figures have also seen a sharp increase since the epidemic. 
In order to tide through these challenging times, the Singapore government has introduced various schemes to provide its citizens with some financial support. 3 of these schemes include, 'Covid-19 Support Grant', 'The Courage Fund' and 'The Temporary Relief'. 
In this article, you can find more information on the different schemes available and also learn how you may be able to claim your monies from the above-mentioned grants. 
#1 Complete Surveys with Rakuten Insights!
As surprising as this solution may seem, it's absolutely true – I've personally verified it too! With Rakuten Insights, participating in their surveys can help you earn some side income quite easily!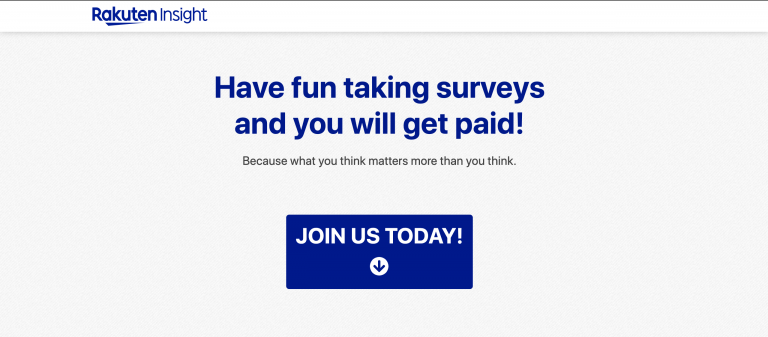 Upon registration with Rakuten Insights as one of their members, you will be redirected to their page where surveys that are open can be participated in, to earn some E-points. 
Each survey, depending on its number of questions and intricacy, will vary in the number of E-points that can be garnered. Every 15 E-points can earn you $1, and redemption begins at 45 E-points which will earn you $3. 
The accumulated E-points can be redeemed as vouchers of varying amounts with their different partners, including NTUC Fairprice, Dairy Farm, and Seven-Eleven stores or be credited directly as cash using PayPal. 
Registration is free and open to any resident in Singapore who is of 16 years age or older. Visit the webpage here to get started with taking Rakuten Insight's surveys to pull in some extra money!
#2 Sign up for credit cards with SingSaver!
The next way you can earn some side income is by signing up for credit cards with SingSaver.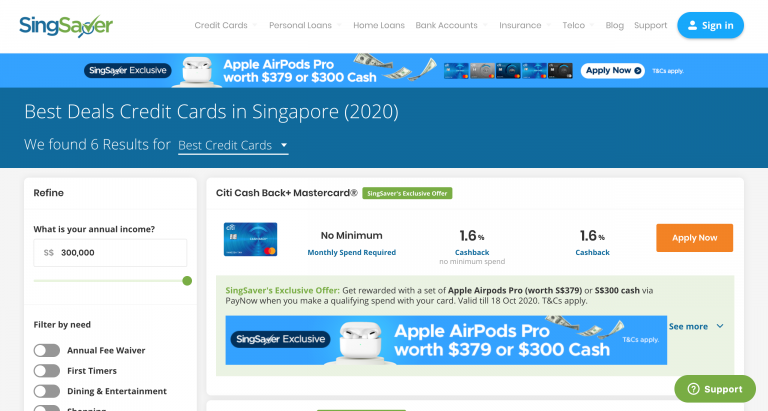 SingSaver offers promotions with various banks from time to time and currently, their tie-up with Citibank is quite popular amongst Singaporeans. 
Their ongoing exclusive offer allows individuals to sign up for Citibank's Citi Cash Back + Mastercard. No minimum monthly spend is necessary to avail the offers for this card and 1.6% cashback is offered for every purchase made – no minimum spend necessary either!
So, what do you stand to gain above all these promotions? Well, individuals can get rewarded with a set of Apple Airpods Pro that are worth S$379 or get S$300 cash via PayNow when individuals make a qualifying spend with the card. 
Their offer is not only applicable to the above-mentioned card but also relevant for the Citi PremiereMiles, Citi Rewards, and Citi Prestige cards. Each card comes with its own terms and conditions so be sure to check them out before registering for the one that best meets your needs. 
SingSaver's promotion with Citibank is only valid until 18 October 2020 so it's best to hurry and pocket this offer as soon as possible to make some extra money on the side!
#3 Get Interest for your cash with StashAway!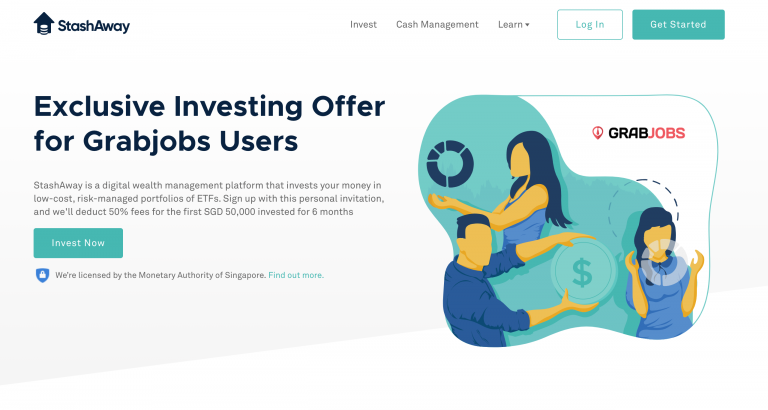 With StashAway, you can invest for any reason you might want to! Check out their General Investing, Income Portfolio, StashAway Simple and Retirement plans to figure out which works best in your favour. 
With the General Investing plan, you can adjust your risk exposure when it comes to investments with no minimum balance and lock-ups with just 0.2% to 0.8% in an all-inclusive management fee. 
Similarly, with StashAway Simple, you need not meet any special requirements or conditions to earn a projected 1.9% in interest. Once again, this means that there will be no minimum or maximum balance, and no management fees applicable either!
All that above sounds like some great reasons to consider visiting StashAway for your wealth management needs and some side income too!
Worried about the Covid-19 situation in Singapore and want to be able to help out with more hands-on duties? Have a little more free time on your hands and wouldn't mind a more constant and stable way to earn some extra cash on the side? 
Why not consider taking a part-time job?
We're currently featuring Safe-Distancing Ambassadors with WDM.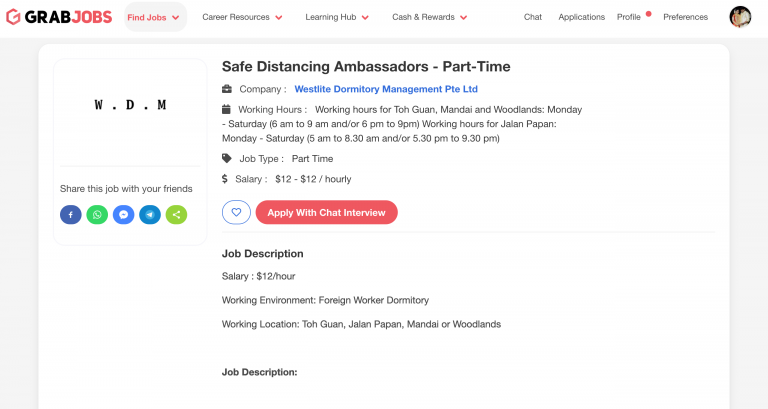 You can choose to work at any one of the foreign worker dormitories located at Toh Guan, Jalan Papan, Mandai or Woodlands. 
Your duties would involve ensuring that the residents adhere to the safe-distancing measures advised by the Singapore government. Additionally, you will also need to ensure that residents wear their masks and get their temperatures checked before entering/exiting the dormitories. 
To ensure your safety and adherence to the safety measures, you will be provided with a Personal Protective Equipment (PPE) kit that will need to be worn during your time of service. 
Working hours range from 6am to 9am and/or 6pm to 9pm at the Toh Guan, Mandai and Woodlands dormitories while timings range from 5am to 8.30am and/or 5.30pm to 9.30pm for the dormitory located at Jalan Papan. 
An hourly remuneration of $12 will be provided. As such, up to $1,800 can be earned from this position per month! Visit the job posting at GrabJobs for more information about the position to earn some extra money from this part-time job.
Want to see a list of all Part-Time Jobs available? Click below.