Do jobs in the retail sector call out to you? If so, are you currently searching for a job opportunity in the retail sector? Great news! This article has a compiled list of the top 5 retail job sites in Singapore to help you on your job search. 
Perhaps, you're one to derive joy from jobs that cater to your customers' satisfaction! Or maybe you enjoy interacting with numerous individuals who are looking to make a purchase at the store! With this list, you can embark on looking at some of the interesting retail positions available at numerous outlets in Singapore! 
Locking in such a retail position will enable you to do all the things you love so much about working in the retail industry in Singapore! 
In this article, you will find a compiled list of the 5 best retail job sites in Singapore. Each paragraph with a little bit of information about the portal, so as to better cater to your job hunt needs. 
We hope the information helps you along on your job search experience!
GrabJobs is a cost-effective recruitment solution that automates sourcing, screening and interviewing of candidates. It does so with over 5,000 companies using the job platform to simplify their hiring process. 
Tired of filling in your personal and professional details on multiple job sites? 
On Grabjobs, Job Seekers will have their profiles automatically generated for them. They can begin applying for new jobs in under a minute with the automated chat-bot pre-screening interviews. 
Following which, shortlisted candidates will then have an interview with the employer scheduled for them. Applicants will also receive automated reminders to attend these interview sessions! Automation at its best 😉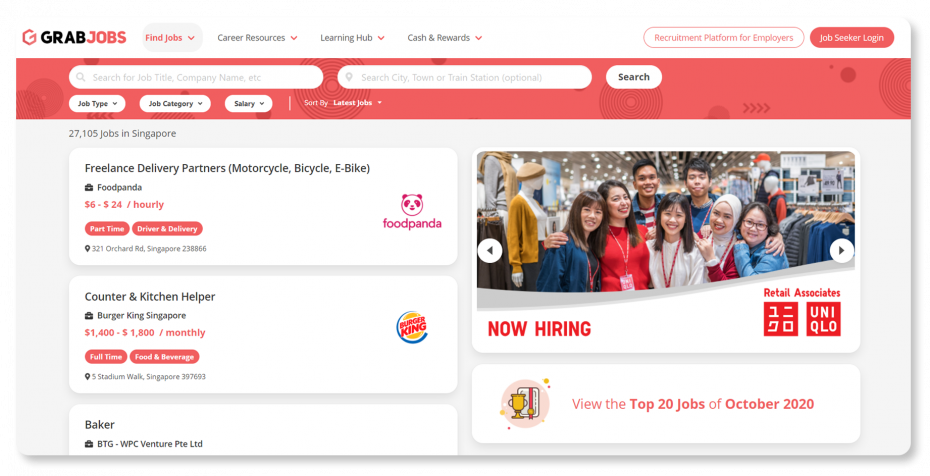 It is also one amongst the top 5 retail job sites in Singapore. With companies like Kate Spade, Club21, 7-Eleven, QianJing Crystal and so many others offering similar opportunities, GrabJobs is a great resource for those looking to secure a position within the retail industry.
Built on the foundation of increasing workplace transparency, Glassdoor offers millions of the latest job listings. They do so alongside their growing database of company reviews too. 
Additionally, job seekers can also view CEO approval ratings, salary reports and interview reviews and questions. 
Glassdoor is also one of the top 5 job portals in Singapore that offers numerous positions within the retail sector!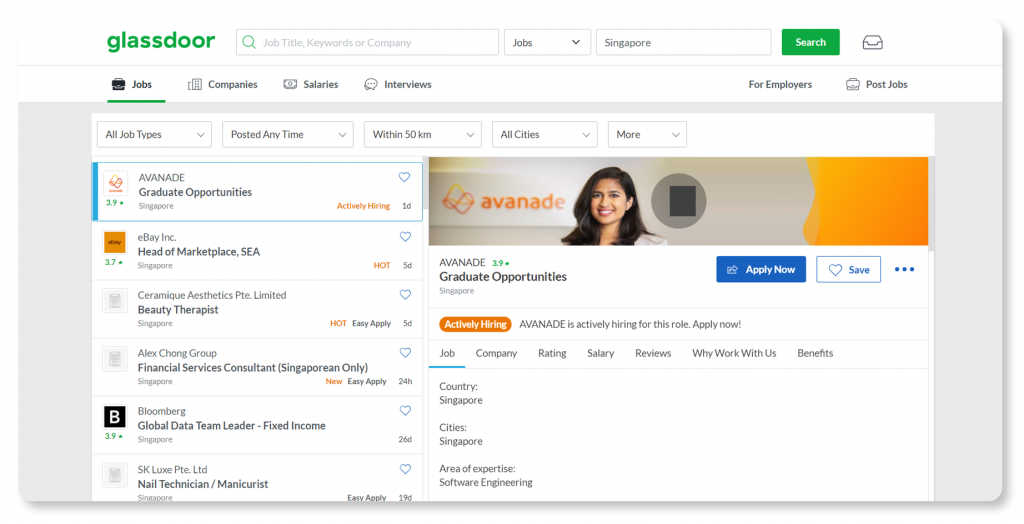 Their portfolio of retail employers include L'Oreal, Cornerstone, Marie's Lapis Cafe, Adecco Personnel amongst many others.
Each job posting will be accompanied with other useful information that job seekers can look into. Some of these information include salary details as well as reviews by previous or past employees. 
One can also find out what sort of benefits to expect from joining the firm in the future. Anything from bonus payments to work-life balance and commissions can be discovered!
To find out more about their specific sector related work positions that Glassdoor offers, visit them here. 
Next up, Indeed.com is one of the top 5 retail job sites to offer splendid opportunities within the working sector of retail in Singapore.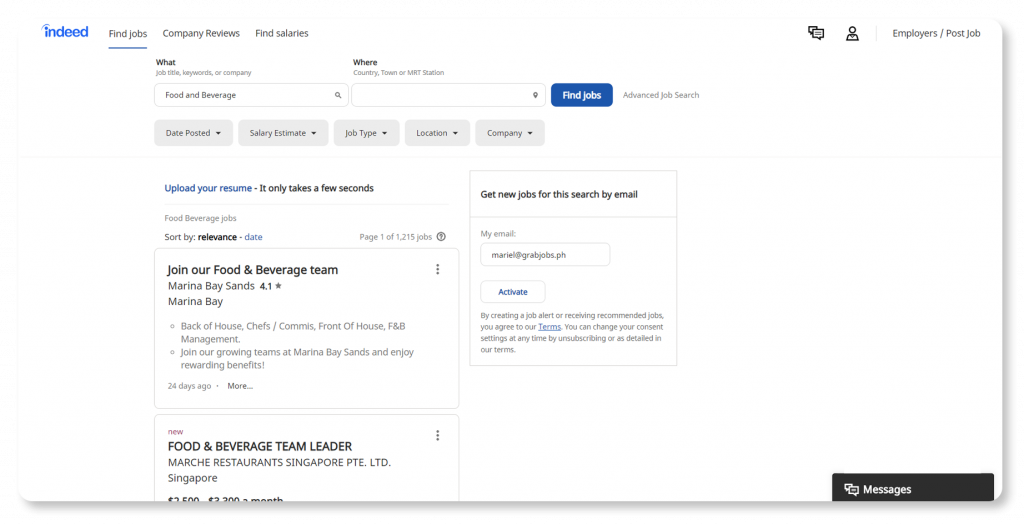 It is also the #1 Job Portal site in the world with more than 250 million visitors every month. Indeed puts job seekers first by giving them free access to search through jobs, post their resumes and research companies.
Their mission is to help people get jobs by helping individuals along on their job hunt process. Indeed has more than 10,000 global employees passionately pursuing this purpose. They do so by improving the recruitment journey through real stories and data. 
Are you ready for a little tip/trick that not many others may know about in relation to the job portal? If you go to Indeed's home page and scroll to the bottom of their website, you'll find a tab called "Salaries" in the footer. 
Clicking on this extension will take you to a page that's less explored by job seekers worldwide. Browse jobs, companies and industries based on the salary information provided by individuals!
A quick search on Indeed with the filter of high-salary-paying companies within the Retail industry revealed that the Cotton On Group, IKEA and 7-Eleven were employees' popular favourites. 
Visit them here if you're interested in retail job positions with hirers including Uniqlo,  Changi Airport, Lovisa, and Cotton on, amongst others!
One of Asia's leading online employment marketplace. JobStreet facilitates the matching and communication of job opportunities between job seekers and employers in Singapore, Malaysia, Philippines, Indonesia and Vietnam. 
Founded in 1997 in Malaysia, JobStreet now has a team of over 800 talented individuals. This gives them the advantage of a strong local presence in every country in which they operate. 
With their understanding and insights of each market, as well as their passion for technology, they provide jobseekers with the best opportunities. In November 2014, JobStreet became part of the Australian Stock Exchange-listed SEEK Limited. SEEK is the world's largest online employment marketplace by market capitalisation. 
JobStreet's vision is to connect businesses with talent and improve lives through better careers. A mission they are striving to deliver with excellence!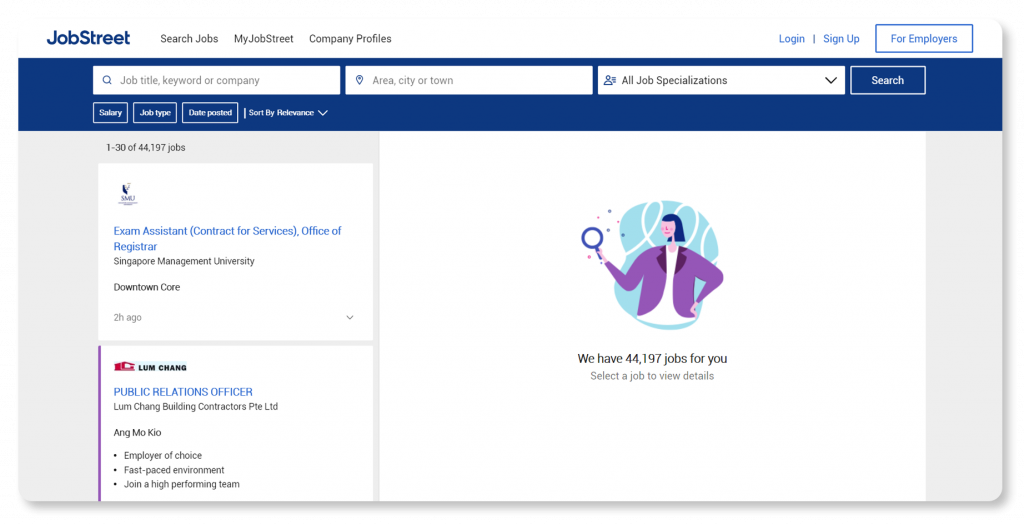 JobsCentral is yet another job site that offers positions related to the retail industry in Singapore. It is also one of the top providers of jobs, education, scholarships and career information and applications in Singapore. 
They are well-recognised by employers, schools and jobseekers alike for their innovative and fresh approach to career services. They also have a reach of over 2 million individuals yearly. 
JobsCentral is one of Singapore's largest career portals as they have over 800,000 users on the platform. Some of you may have heard of their sister portals – BrightSparks, a top scholarship and education media for pre-tertiary students. 
JobsCentral joined CareerBuilder, the largest job portal in the US. This allows them to leverage upon CareerBuilder's global resources and cutting edge technology. Further, enabling them to reaffirm their position within the recruitment market.
Their user-friendly interface also makes them one of the best retail job sites in Singapore!