Have you been searching for a job that is set in the background of the Food and Beverage sector? If you answered yes, this article is most likely going to be a great form of career resource for your job hunt. In this piece, you'll find a list of the 5 best F&B job sites in Singapore!
Do any one of the positions of 'service crew', 'barista', 'cook', 'bartender' or 'restaurant manager' sound interesting to you? Are you feeling excited to take on a career in the F&B industry? If so, you can embark on looking at some of the F&B positions available at numerous outlets in the F&B industry of Singapore! 
Locking in a F&B position will enable you to do all the things you love so much about working in the food and beverages industry in Singapore! 
In this article, you will find a compiled list of the 5 best F&B job sites in Singapore. Each paragraph with a little bit of information about the portal, so as to better cater to your job hunt needs. 
We hope the information helps you along on your job search experience!
GrabJobs is a cost-effective recruitment solution that automates sourcing, screening and interviewing of candidates. It does so with over 5,000 companies using the job platform to simplify their hiring process.
Tired of filling in your personal and professional details on multiple job sites? 
On Grabjobs, Job Seekers will have their profiles automatically generated for them. They can begin applying for new jobs in under a minute with the automated chat-bot pre-screening interviews. 
Following which, shortlisted candidates will then have an interview with the employer scheduled for them. Applicants will also receive automated reminders to attend these interview sessions! Automation at its best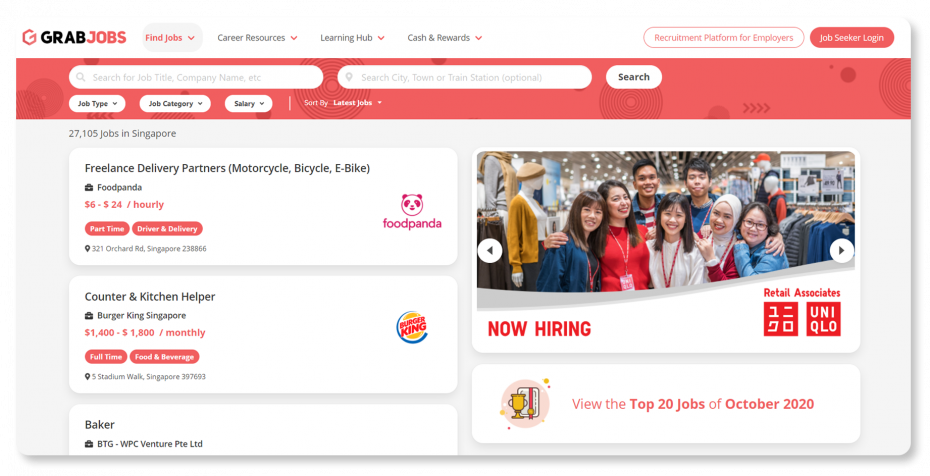 It is also one amongst the top 5 F&B job sites in Singapore. With companies like Poke Theory, Frenchie's Wine Bar, Les Bouchons, Monster Curry, Copper Chimney, Beer Basket Kitchen & Bar, and so many others offering similar opportunities, GrabJobs is a great resource for those looking to secure a position within the F&B industry.
GrabJobs also curates content that is industry-specific. Visit our blog page if you're interested in finding out which are the top 5 service crew and top 5 kitchen jobs in Singapore!
Last but not least, don't forget to visit GrabJobs at this link to find a position that matches your needs within the FnB industry.
The next job portal that also offers numerous positions within the F&B sector is GumTree.
GumTree is one of the best job sites in many countries. With over tens of thousands of job opportunities, individuals can search for jobs in the health, sales, retail and construction sectors among others.
The site also allows job seekers to filter their searches based on category, location or the advertiser. The last filter being a cool function that allows you to pick specific companies of you choice! 😉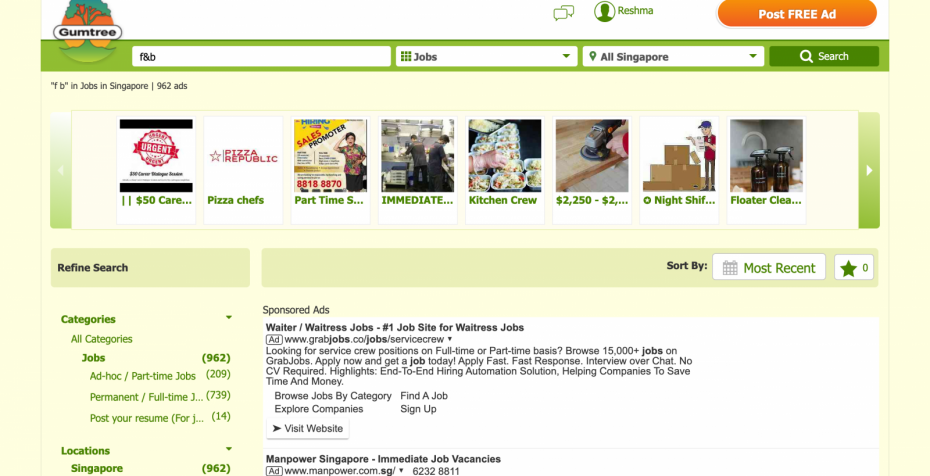 Gumtree was established in March 2000 as a local London classified ads and community site. It has since expanded as an ever growing community all around the world.
Their mission is to provide a simple and easy-to-use tool that lets individuals quickly find what they may be looking for. This can include anything from an object at a bargain price to a dream job, flat or event a pet to adopt!
Gumtree also offers positions of service crew staff, waiters, cook, chefs and others with a myriad of F&B agencies. Some of these companies include Bistro Bar as well as Black & Ink amongst others.

To find out more about the Food and Beverage related work positions that Gumtree offers, visit them here!
JobsCentral is yet another F&B job site that offers positions related to the Food and Beverage industry in Singapore. It is also one of the top providers of jobs, education, scholarships and career information and applications in Singapore. 
They are well-recognised by employers, schools and jobseekers alike for their innovative and fresh approach to career services. They also have a reach of over 2 million individuals yearly. 
JobsCentral is one of Singapore's largest career portals as they have over 800,000 users on the platform. Some of you may have heard of their sister portal – BrightSparks, a top scholarship and education media for pre-tertiary students. 
JobsCentral joined CareerBuilder, the largest job portal in the US. This allows them to leverage upon CareerBuilder's global resources and cutting edge technology. Further, enabling them to reaffirm their position within the recruitment market.
Their user-friendly interface also makes them one of the best F&B job sites in Singapore!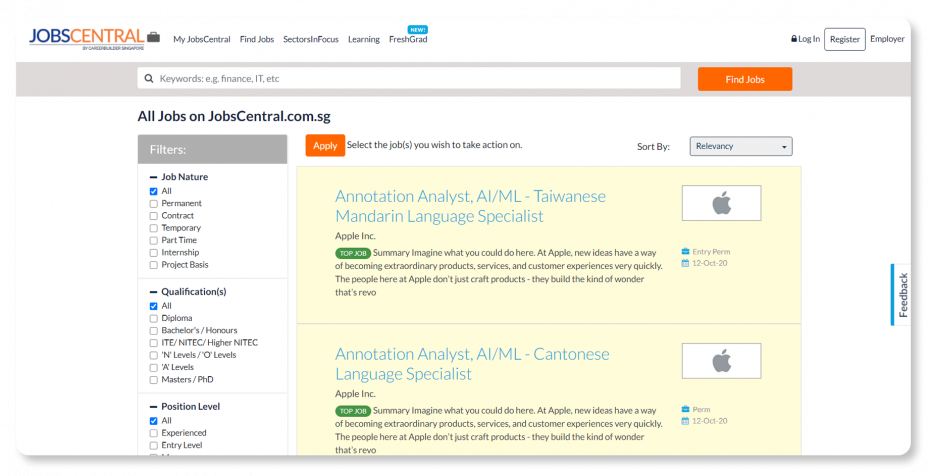 With FnB outlets such as Creative Eateries and The Privé Group on their belt, JobsCentral offers positions of Head Chef, Baker and Bartender amongst others.
To find out more about the F&B sector related work positions that JobsCentral offers, visit them here!
Freeboh is a leading integrated shift-based full-time/part-time jobs marketplace where work fits real life with just a few clicks. 
They provide an exclusive platform for shift-based employment opportunities. Jobseekers can simply set up an introductory profile and apply for the shifts that suit their schedules!
Freeboh also allows individuals to check their own work schedules or trace back their work and pay records! They aim to help jobseekers achieve customised working schedules to fit their life and needs, not the other way around. 
They believe that shift-based hiring endorses flexibility and scalability for both businesses and employees. All in all, everybody wins!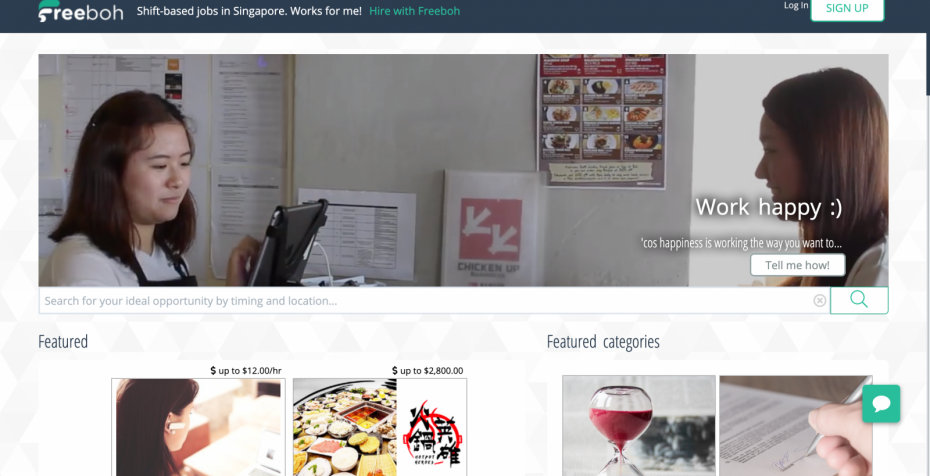 Last but not least, Indeed.com is one of the top 5 F&B job sites to offer splendid opportunities within the working sector of food and beverage in Singapore.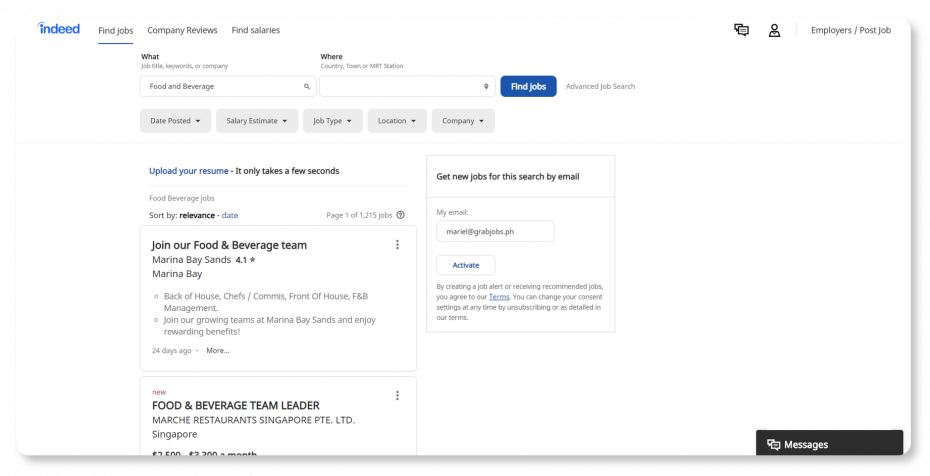 It is also the #1 Job Portal site in the world with more than 250 million visitors every month. Indeed puts job seekers first by giving them free access to search through jobs, post their resumes and research companies.
Their mission is to help people get jobs by helping individuals along on their job hunt process. Indeed has more than 10,000 global employees passionately pursuing this purpose. They do so by improving the recruitment journey through real stories and data. 
Are you ready for a little tip/trick that not many others may know about in relation to the job portal? If you go to Indeed's home page and scroll to the bottom of their website, you'll find a tab called "Salaries" in the footer.
Clicking on this extension will take you to a page that's less explored by job seekers worldwide. Browse jobs, companies and industries based on the salary information provided by individuals!
A quick search on Indeed with the filter of high-salary-paying companies within the F&B industry revealed that the Coca Cola Company, Dunkin Donuts, and Mondelez International were employees' popular favourites.
Visit Indeed here if you're interested in FnB job positions at hirers including Hillton Hotels & Resorts, Orchid Hotel, Marina Bay Sands and Ginza Shinto amongst others!