In the second decade of the 21st century, what should a job site offer?
What should recruitment platforms do to help employers?
Reinventing the Recruitment Platform
Having an engineer background, I constantly look for efficiency and automation: what can be automated should be automated. That's why our vision at GrabJobs has always been to automate recruitment with technology.
Making the hiring process smooth, fast and painless for both employers and job seekers.
GrabJobs has combined a Job Site (to attract talent) + an Applicant Tracking System (to manage applications) + Automation = what you get is an all-in-one Software-as-a-Service platform to manage and automate your recruitment end-to-end.
The days of one-dimensional job sites and ATS are over.
Our solution helps companies save hundreds of hours at a fraction of the cost they used to spend on recruitment.
When I look at job sites today, from the point of view of a job seeker, I see no difference from the job sites 20 years ago. What I see are mostly information about jobs and companies and that's pretty much it. Where's the innovation? Where's the wow factor?
Being in the data age, you would expect to find additional useful information on job sites. That's why at GrabJobs our vision has always been to create an ecosystem of services that benefits individuals not only during their job search but throughout their career growth and professional lives.
Meet the GrabJobs Ecosystem: Jobs, Career Resources, Financial Resources, Learning Hub, Lifestyle Promotions.
When you browse property websites these days, you can view on a map which services are nearby, how long it takes for you to commute and other useful data points. We have a similar vision for GrabJobs. While browsing jobs, you should be able to find information that answers your questions: are there affordable lunch restaurants/cafes near the office? are their nurseries nearby to drop off kids? what's the price of apartments in the area if I had to move closer to work?
Our first version of the GrabJobs Ecosystem is now live in Singapore. In addition to jobs, individuals can:
During the coming months we'll be developing our local partnerships to offer more content as well as expanding the ecosystem to our global locations.
With the launch of our ecosystem, we decided to refresh our brand with an isometric multi-dimensional logo that illustrates our multi-services Job Site and Recruitment Platform.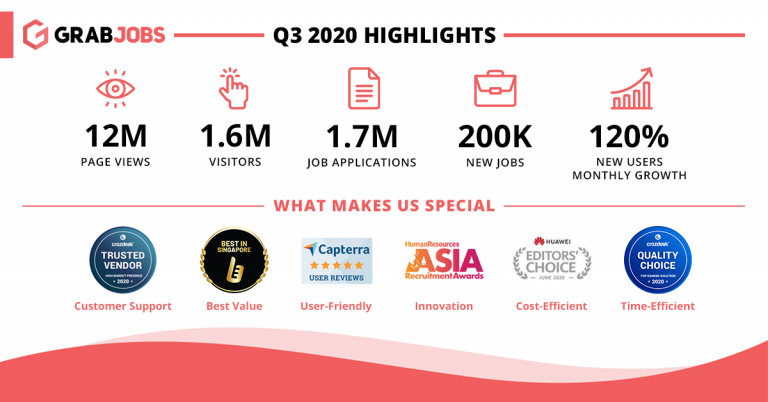 In addition to the launch of new products this past quarter, we saw incredible platform activity. Monthly new user growth was a staggering 120% and we helped connect 1.6 million job seekers with over 200,000 job opportunities! During these uncertain times, we're glad that we can bring jobs to everyone.
Our growth has been a combination of UX improvements, growth experiments, partnerships, launch of new markets and above all – extra-hard work from everyone in the team!
With 6 consecutive months of profitability and operations in more than 20 countries, we're progressing step by step towards our big goal.
We aspire to become the next-generation of innovative job platforms to service employers and job seekers globally.
Want to try out GrabJobs? Just enter your email below this post to start your free trial.
Want to ask me anything? Send me an invite on Linkedin.
Thanks for reading!