Tutorial - Get More Applicants & Top Matching Candidates
When you post a job on any traditional job site, we bet you expect applications to flood your inbox. In a perfect world, you would receive tons of highly qualified applicants instantly, right?
But is it really what's happening?
In today's competitive recruitment market, what more can you do to stand out from other employers?
In this tutorial, you'll gain insights about the tools at your disposal with GrabJobs designed to attract more applicants to your job posts and quickly identify top matching candidates.
A How-to Guide for Recruiters - Table of Content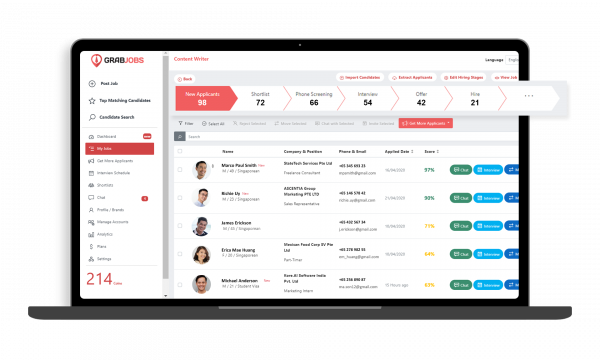 1. How to Cultivate your Employer Branding
Hiring is a 2-way street.
You want to learn everything about your candidate before you're hiring him and that's totally normal. But have you considered applicants may want to learn about your company before they even start applying?
Your career page is often your candidate's first experience with your company. You should treat it as an invitation to the coolest working place around! Make candidates want to join your team by including fun pictures of employees, unique videos, and interesting information about your organization on your career page.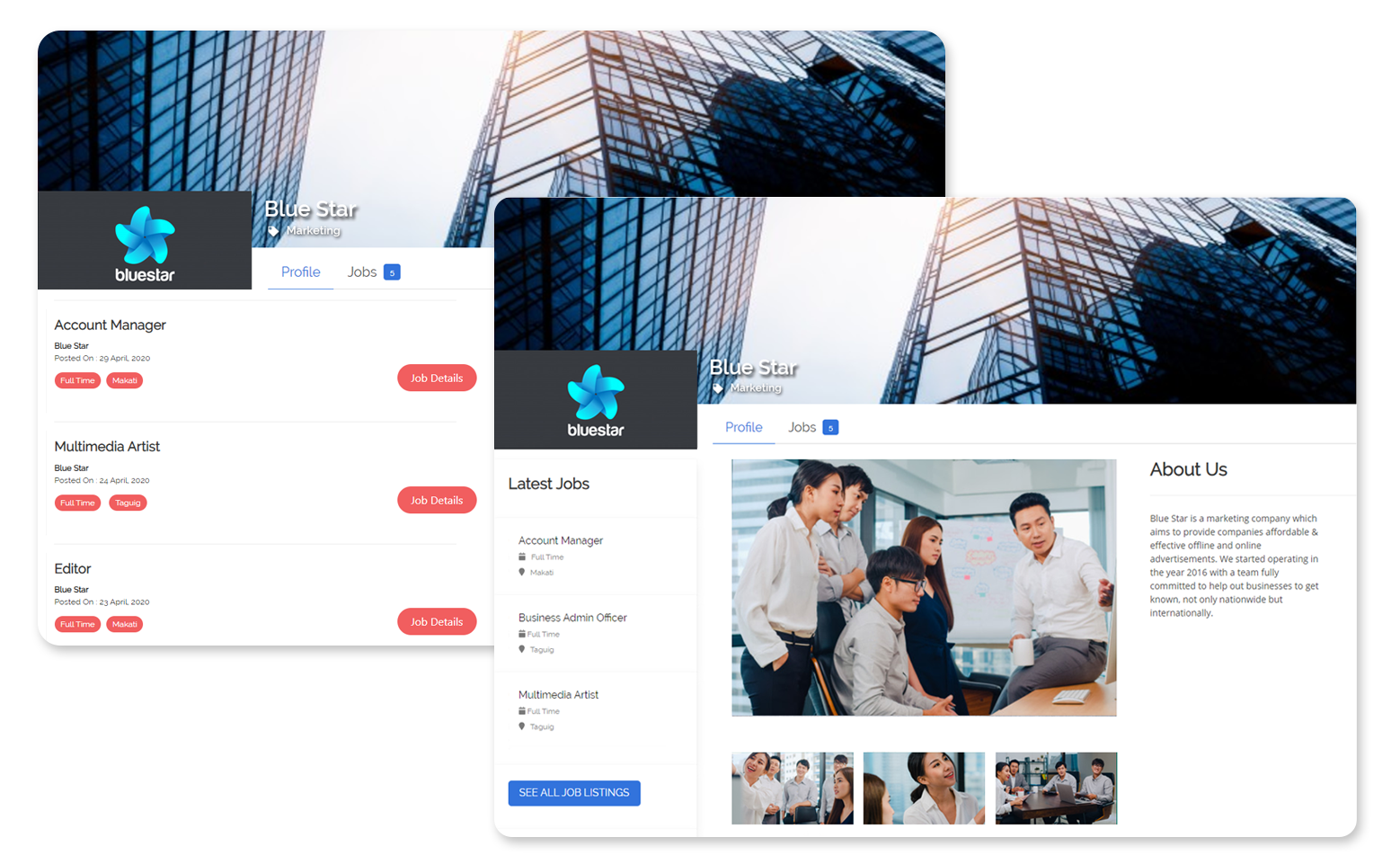 Edit your GrabJobs generated career page for your company directly from your Employer Dashboard in the section Profile / Brand. 
Hiring with Multiple Brands
Are you hiring for different brands with a single account? GrabJobs can support multiple profiles, each of them with their exclusive customisable career page.
2. What can you do to Attract More Applicants?
Do you want to make your job posting as visible and noticeable as possible? Well, who doesn't?
You could post jobs on different job boards and bite your nails waiting for the perfect candidate to apply. Or you could also make use of those GrabJobs features to increase your chances of being noticed by potential talents. Those solutions are completely free to use by the way.
2.1. Interview Chatbot Link
Each GrabJobs posting generates its own unique URL, linking to its direct application process via Interview Chatbot.
This means you can copy-paste this link to any channel you'd like to start driving candidates to submit their application. Some ideas of channels you may be using: other job sites, social media networks, a corporate career site, blogs and online communications, etc.

Paid Digital Recruitment Campaigns
Are you or your marketing team running your own paid acquisition campaigns to attract more applicants? Making use of your job link for such campaigns has proven instrumental to streamline the screening and funnelling of candidates into a powerful ATS. Try it for yourself 😉
2.2. Share Job on Social Media
According to Statista, an average people spends over 2 hours a day on Social Media. For employers like yourself, those networks allow powerful engagement with passive or active potential candidates – making it the ideal place to express your employer brand.
Connect your social networks with GrabJobs and share job openings directly as posts on your company pages.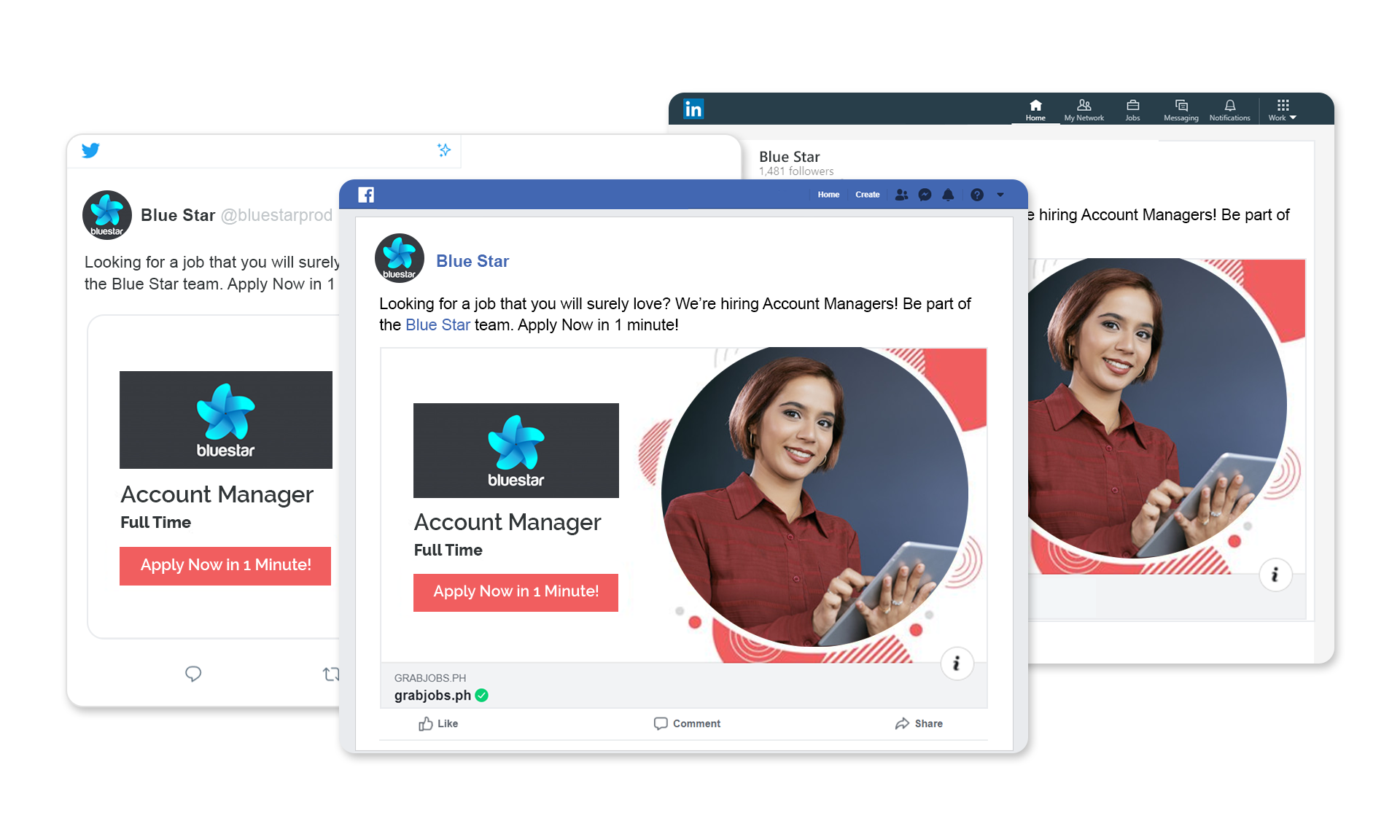 Do you have a corporate careers section? We know manually updating your website with your latest job openings can become quite time-consuming.
GrabJobs Widget allows you to embed your list of open roles on your website. A single line of code is all it takes to display and update your job listing in real-time.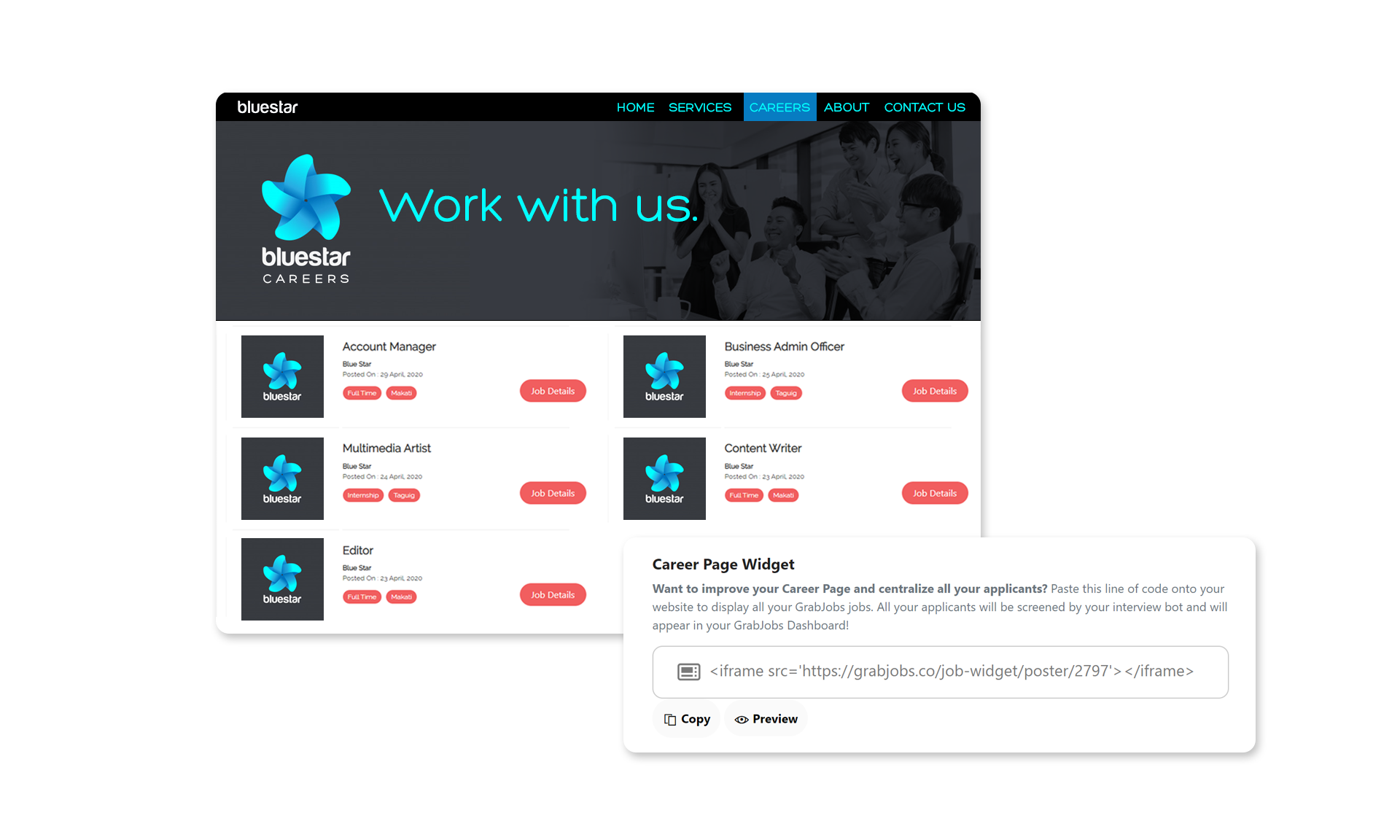 Benefits of adding the Career Page Widget to your site:
Save Time – candidates who apply on your site are automatically screened, scored and shortlisted/rejected by your GrabJobs Interview Chatbot
Excellent Candidate Experience – seamless application process and candidates get notified automatically of the status of their application
Greater Efficiency – synchronize your roles instantly when you create, edit or close jobs in GrabJobs
Save Money – it's completely Free to use !
2.4. Offline-to-Online QR Code
Remember, each GrabJobs posting generates its own unique URL – linking to its direct application via Interview Chatbot. Well, this link is also available in the form of a QR Code.
This can prove particularly useful if you're a Retail or F&B store, generally receiving a bunch of walk-ins or spontaneous applications. Picture this, what if you could turn some of your faithful customers into potential hires? Here's below an in-depth article about how QR Code application links translates for your business.
QR Code can also apply for job fairs and career events and present many benefits:
Save Paper – every data gets digitalized and centralized in your ATS at the disposal of the HR team instantly.
Save Time – well, we said instantly… 
Save Money – once again, it's totally free to use!
Stop spending long hours on recruitment, let GrabJobs automation work for you!
3. What are GrabJobs Coins & how to use them?
Coins are a credit system giving you access to premium features of GrabJobs Recruitment Platform.
They can be used to contact passive candidates from Candidate Search & Top Matching Candidates, bump your jobs to the top of the job list and to promote your job openings with email blasts.
3.1. Top Matching Applicants & Candidate Search
When you post jobs on GrabJobs, you'll edit your Interview Chatbot questions to be in line with the requirements for your role. As you may have read in previous tutorials, your chatbot will then screen your applicants as they apply.
But that doesn't stop here! GrabJobs Interview Chatbot will also dig-in the database to look for passive candidates who would be matching your job requirements. Even thought then haven't applied to your job yet, you can take the lead and reach out to these Top Matching Applicants by shortlisting them.
We explain in more details below how Top Matching Applicants work.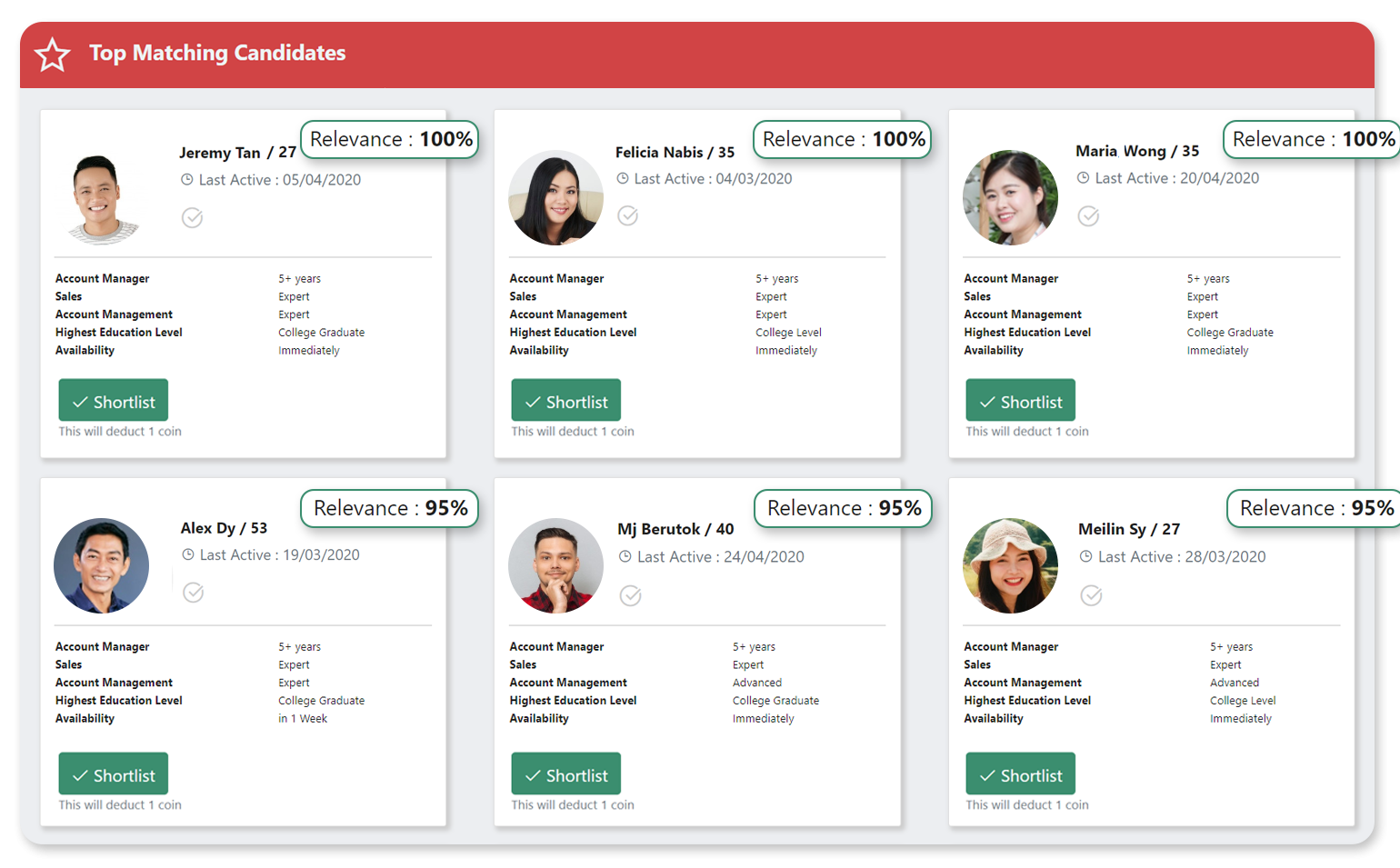 3.2. Bump Job to the Top of Search List
Over time, job postings will be pushed down from the top of the search list as new jobs gets posted. To refresh the exposure of your jobs, you can bump them back to the top.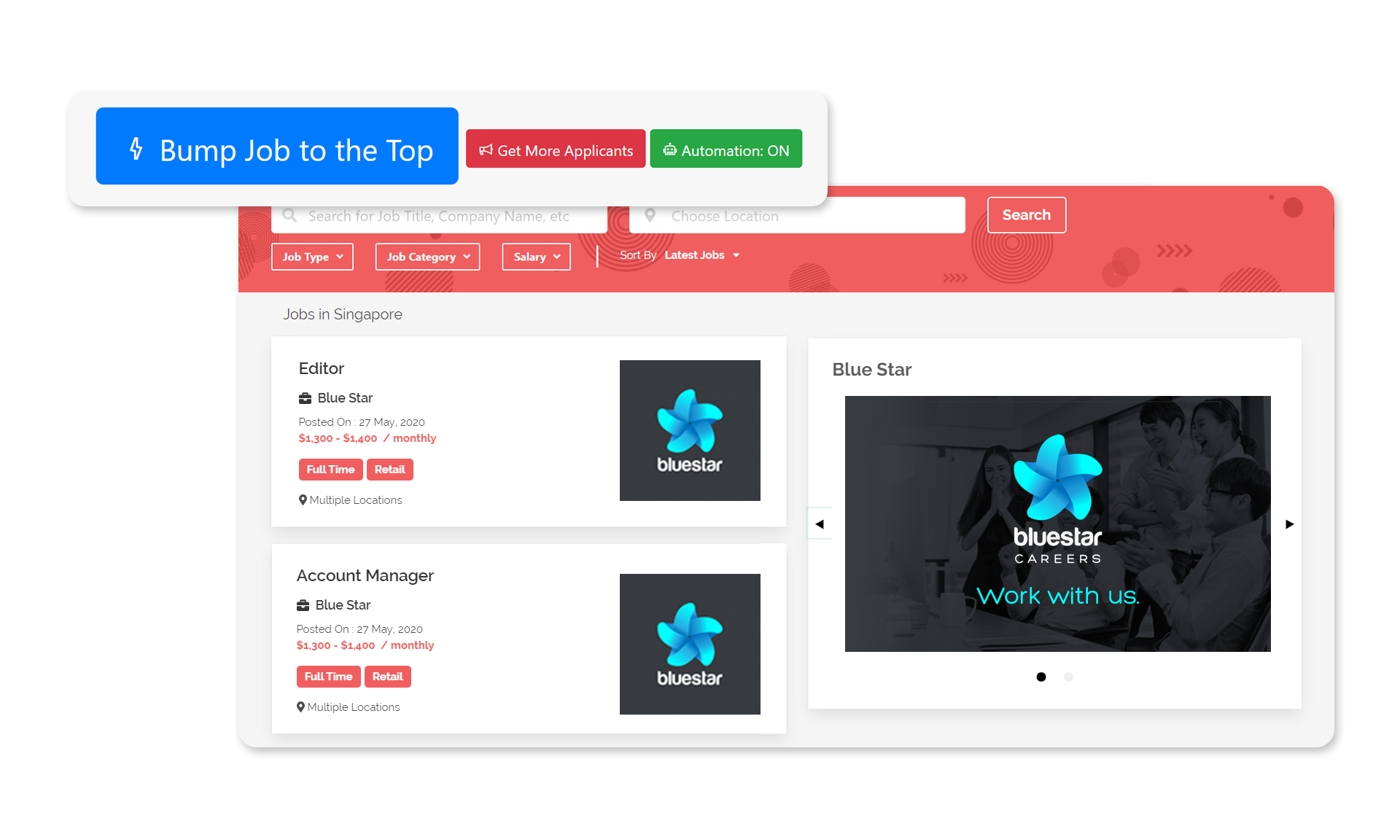 Want to go the extra-mile and boost your job visibility?
Push it straight to the inbox of potential applicants! You can send a direct job invitation via email and chat blast to up to 5,000 candidates that match your job requirements.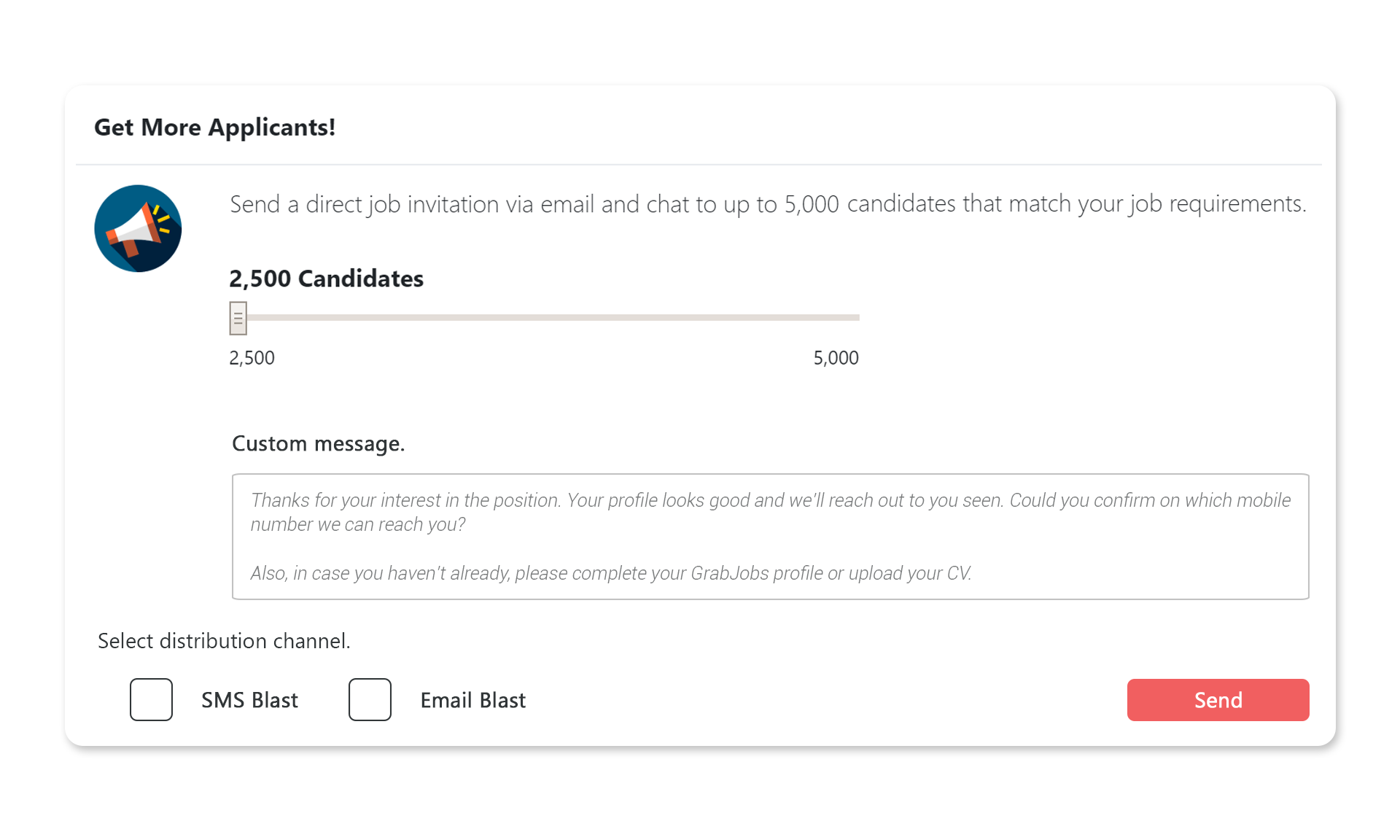 4. Top Matching Applicants - How Does It Work?
GrabJobs Interview Chatbot technology helps matching you instantly with jobseeker prospects matching your job requirements. How does the matching process works really?
Top Matching Candidates is closely tied up to the way you edit your Interview Chatbot questions: your grading system determine the ideal profile of your applicants. The Interview Chatbot will then scan the profile of candidates to identify for you the ones most relevant to your job requirements.
Let's take an example. Say, you're hiring an Account Manager in Singapore.
You'd like applicants to have at least 2 years of experience in a similar role + skilled in sales + minimum college level + Singaporean or PR + be able to start immediately.
As part of your Interview Chatbot settings, you'd logically allocate the maximum amount of points to candidates answering they have 2 years and above + have advanced experience in Sales + College Graduates + available to start asap.
Doing so, your Top Matching Candidates suggestions would display profiles who are meeting all those requirements.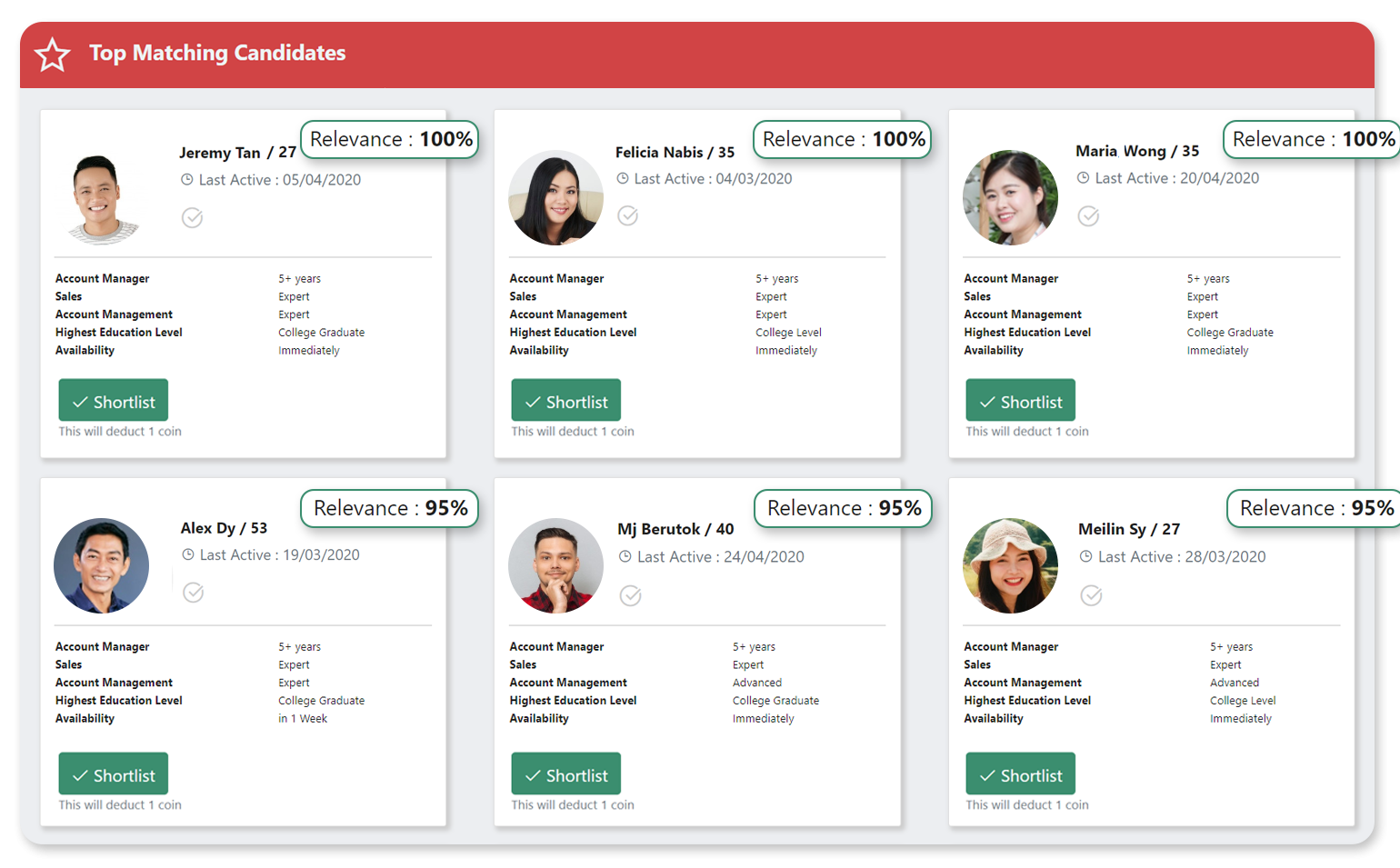 Other How-to Guides you may be interested in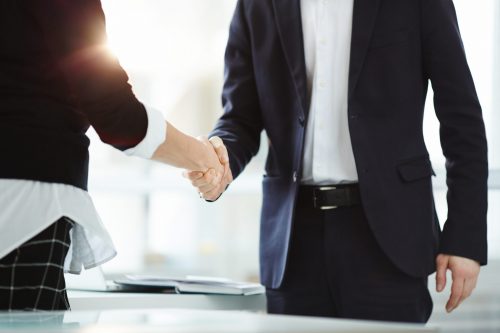 Start Hiring Better, Faster
Stop spending long hours on recruitment, let GrabJobs automation work for you!